Like many things in life, the importance of something is never truly appreciated until it is gone. If you've lost your teeth, whether due to tooth decay or gum disease, you surely understand.  The good news is that you have options to replace them.  Our Cosmetic partial dentures can help restore your way of life by helping you with day-to-day functions, such as eating and speaking, as well as helping restore your confidence by improving your appearance and smile.
Making a denture is a process that usually takes about 4-5, however this can vary from one patient to another.
The Difference is in our passion and attention to detail…
Experienced Cosmetic dentists at Lane Ends Dental Practice are dedicated to producing only the highest quality results in Restorative and Cosmetic Dentistry. Our clinician, Dr. Tehranian is at the forefront of cutting-edge dental developments, incorporating the latest dental technology and clinical research into our treatment approach to provide you with attractive, functional and long-lasting solutions.
We consider an overall approach or "big picture" when treating our patients – this means we take your facial appearance, smile, speech and function into account as well as your teeth and gums.
Individually Designed Partial Dentures
Designed to correct the gaps in your smile, when only some of your teeth are missing. Conventionally, metal attachments were used to anchor the dentures to your natural teeth.  However, there are many other alternatives such as tooth and gum coloured attachments for aesthetic areas.  Partial Dentures maintain tooth alignment by preventing your remaining teeth from shifting.
Our Premium Dentures are very high in natural appearance. They are made using premium-quality denture teeth, which are impact, wear and stain resistant. As with all our cosmetic dentures the teeth are first set in wax for you to try in. Changes may be made at that time. After you have approved the look of your natural looking Denture, the laboratory will custom finish your denture in the permanent acrylic base material.  It's like designing your own smile.
Different Type of Partial Dentures
We offer several types of partial dentures – Chrome (metal dentures), flexible and acrylic. The chrome and flexible partials are our best partials.
Chrome Partial Denture
Chrome partial denture is stronger, less bulky and offers a great fit. This partial has a metal framework to which will attach higher-quality denture teeth.
Flexible Partial Dentures
The flexible partial Denture (Valplast Denture) is made from a special material that gives you added comfort and fit. It is very flexible and doesn't break .
 Acrylic Partial Dentures
 Acrylic partial dentures are more affordable, but they tend to feel slightly more bulky. This partial has an acrylic base into which the denture teeth are set and is attached to your natural teeth with small metal clasps. The acrylic partial may be available with more durable, natural-looking teeth, right up to the Ultra partial.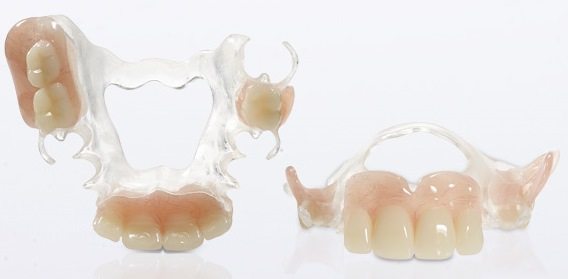 Full Dentures and Partials Dentures Consultations
If your teeth have reached the point where you are considering dentures, we invite you to come in for a consultation. We will do an assessment of your condition and provide you with a list of options tailored to your individual needs.
With the advances in dental implants and other techniques in the last twenty years, dentures can often be used in conjunction with implants for enhanced function and comfort. However, for many people dentures alone are a very cost effective solution to the problem of aging teeth and gum disease.
Suffering from loose or ill-fitting dentures?
For those patients wearing full dentures that keep on dropping down or are simply loose due to lack of supporting gums, we offer implant dentures which can greatly enhance stability of existing dentures and give you great confidence. Call your local Dentures and Partials Dentist today on 01772 – 726932