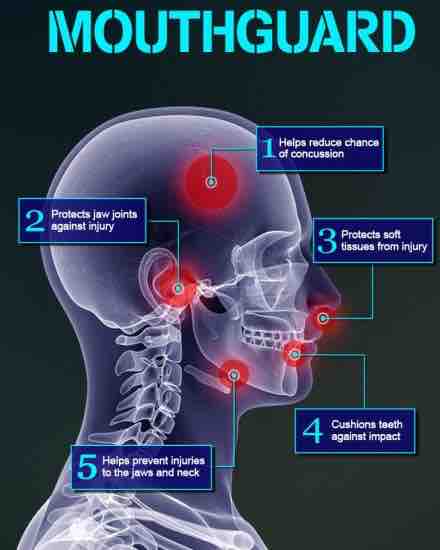 Helmets, knee pads, if you're a keen athlete or the parent of one, you know the importance of suitable protective gears. But did you know that up to 45 % of all sports injuries involve the face? Protect your smile and your mouth with a comfortable, custom-made sports mouthguards to dramatically reduce the risk of sports-related oral injury. Professionally fitted and comfortable mouth guard makes it easier to breathe and can help reduce the risk of injury to your teeth and possible concussions.
What is a sports Mouthguard?
An athletic mouthguard is a protective gum shield that covers over your teeth and gums to help protect your lips, tongue, jaws, face as well as your entire smile. New research indicates that mouth guards can even reduce the severity of concussions.
Types of Sports Gum shields :
You may have seen ready-made mouthguards in a sport shops. These generic mouthguards are inexpensive and readily available. Unfortunately, because they are not custom-fitted, they are bulky and uncomfortable in your mouth. Ready-made mouth-guards are secured by closed jaws which means, when an athlete wears a ready-made mouthguard, speaking and breathing are very difficult.
If you're looking for something that is more custom fit to your mouth, you might consider mouth-formed shields. Acrylic, shell liner mouthguards provide some sort of secure fit over your teeth, nevertheless, many users report that this mouthguard can have an unpleasant odour or taste. It can also harden over time and lose its flexibility.
Custom-Made Dental Mouthguards
These are the best available solution; custom-made mouthguards are comfortable, practical, and protective. They are made by your dentist after taking impressions of your teeth.
Protect Your Teeth!
There's no way to anticipate most events that cause tooth fractures. Sports. however , are an exception. If you or someone you care about is involved in any type of contact sport, Mouthguards will offer a way to protect the teeth while participating in athletic activities. When designed and worn properly, sports mouthguards substantially reduce the risk of damaging your smile. For more information on customized gum shields, please call us on 01772 - 726932